Configuring KuberLogic
Using docker-compose to provide your application
KuberLogic provides a simple way to deploy your application as SaaS by supporting docker-compose.yaml structure.
WARNING
KuberLogic only supports a single application type configured via docker-compose.yaml. Any change to this file will be propagated to all KuberLogic managed applications.
You will be asked to enter path to the docker-compose.yml during the installation process, otherwise KuberLogic will be provisioned with demo application.
Limitations
There are few limitations about supported docker-compose.yaml:
Only one service can have its ports published
Will work:
Will not work:
Only a single port can be published.
Will work:
Will not work:
Local volume mounts are not supported
Will work:
Will not work:
Supported docker-compose extensions
You can use the following extensions to your docker-compose.yaml:
x-kuberlogic-access-http-path
This extension allows you to expose more than one docker-compose service by specifying HTTP path prefixes. Default path prefix is /.
Duplicates are not allowed and will trigger a service provisioning error.
Will work:
Will not work:
docker-compose.yaml
Templating
KuberLogic also supports templating certain service fields in docker-compose.yaml by using Go templates.
Fields that can be templated are:
image
command
environment variables' values
Service parameters that can be accessed in the template are:
Name: The name of the service
Namespace: The namespace of the service
Host: The host of the service
Replicas: The number of replicas of the service
VolumeSize: The size of the volume of the service
Version: The version of the service
TLSEnabled: Whether the service is TLS enabled
Parameters: The advanced parameters of the service
There are also a few functions that can be used for environment variables:
.Endpoint: Returns the endpoint of the service
.GenerateKey <len: int,optional>: Generate a random key of the specified length
.GenerateRSAKey <bits: int,optional>: Generate a random RSA key of the specified length
PersistentSecret <id: string,optional>: Saves the value of the field in a persistent secret that will be used by the service. (Note the absence of . at the start of the function).
WARNING
Generate... functions will generate different values each time the template is rendered. This will result in constant service restarts.
You should use PersistentSecret function to store the generated value of the field in a persistent secret.
Examples
Specify the image version
Provisioned services will use version as the image tag or "latest" if not specified.
Configure service URL parameter
Generate a random key and save it to the persistent secret
Generate a random RSA key and access it for the different service
RSA key will be generated and saved in a persistent secret under the "PRIVATE_RSA_KEY" key.
Setting Ingress controller
KuberLogic requires Ingress controller to be expose services to the public internet.
To install Ingress controller, follow Kong installation guide:
https://github.com/Kong/kubernetes-ingress-controller
Or just run to apply kong ingress controller:
Check if you have a default ingressClass installed:
If your output is Default ingressClass: <ingressClass>, then you have a default ingressClass installed.
TIP
You can only have a single default ingressClass.
If you don't have a default ingressClass installed, you need to set up one:
You should change "kong" to your ingressClass name if you use another Ingress controller. You can only have one default ingressClass, so make sure no other ingressClasses marked as default.
Configuring TLS certificate
It is assumed that the TLS certificate will be a wildcard certificate. All KuberLogic managed applications share the same certificate by sharing the same ingress controller.
Kuberlogic allows you to secure application access with TLS certificate. KuberLogic uses a sample TLS certificate by default.
Enabling backup/restore capability
WARNING
Backups will only work if you use CSI based volumes. Backups will not work for hostPath volumes.
Backups and restores feature is provided via Velero integration. Both file-based and volume snapshot based backups are supported. Backups and restores are disabled by default. Follow these steps to configure environment and enable backup feature:
Get supported Velero release (follow the steps from the official Velero website)

Install Velero for your infrastructure provider. Make sure to include --use-restic to enable file based backups.

Verify Velero status.
Webhook configuration example: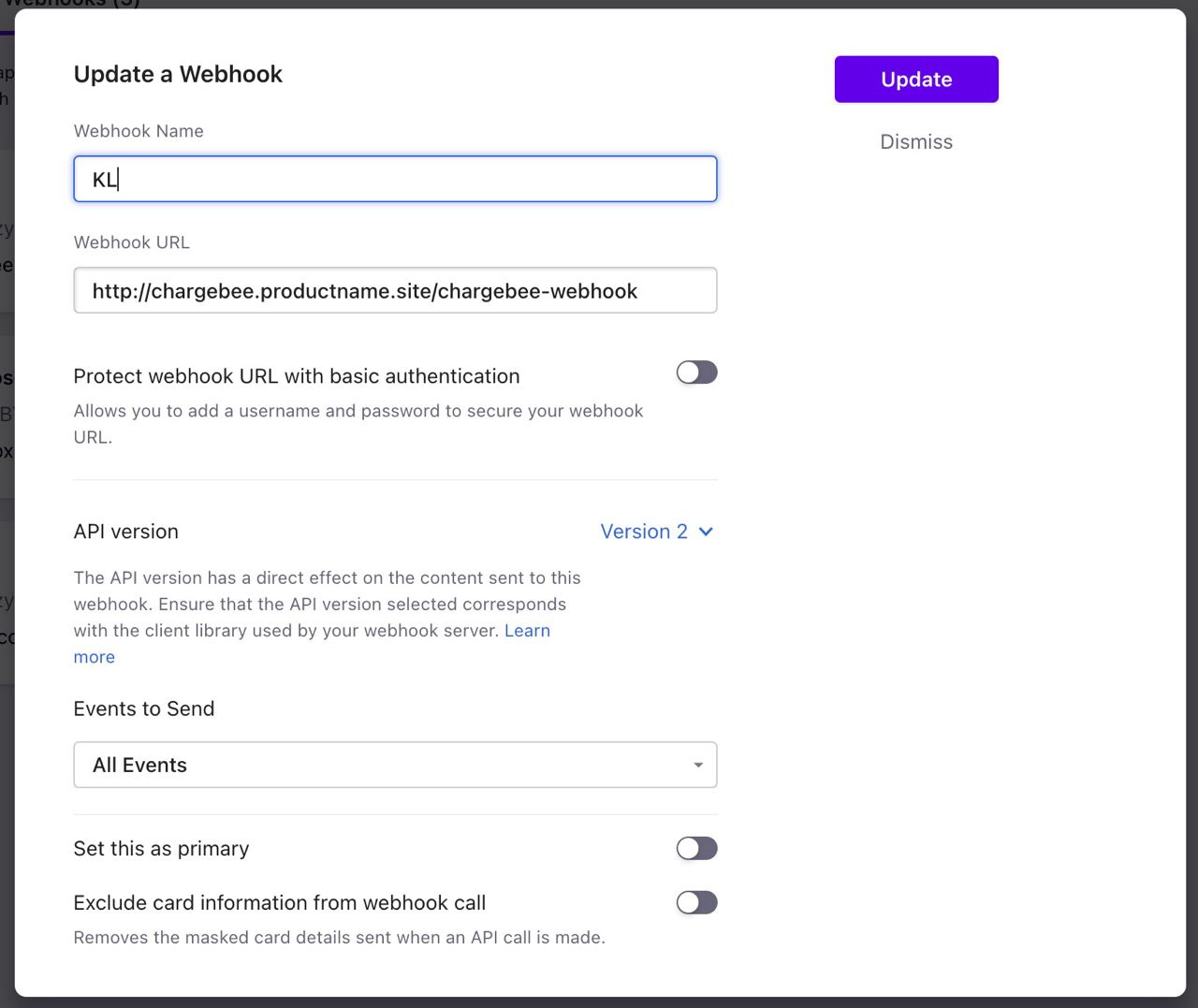 Webhook URL should lead to "kls-chargebee-integration" service External IP.
Type to see the IP: